The Uppsala Observatory in 1851
Franz Alexander Berggren (1815-1855), Uppsala from the west. 1851.
The view of the town is painted from Rackarbergen (Flayer's Hill). Dominating the foreground is the Observatory near its completion. In the middle is the Cathedral and to the far right the back of Carolina Rediviva (the university library building finished in 1841) and behind it Uppsala Castle.
The painting was acquired by the Uppsala University Library in 1986.
---
Professor Svanberg made the initial construction drawings of the new observatory himself, inspired by the new observatory in Berlin, finished in 1835.
The final architect was Johan Way and the observatory was built during the years 1844-1852.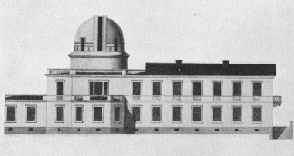 A part of the original construction drawing by Way, 1844
(Uppsala Observatory)