The Celsius Observatory 1741 - 1852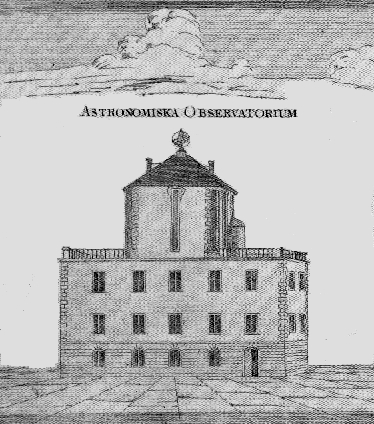 F. Akrel from "A description of Upsala" by J.B. Busser (1769)
The Celsius Observatory in the 1760's.
The tower was dismounted in 1857.
The Celsius Observatory today

Svartbäcksgatan 7 - 11 Celsiushuset &nbsp Photo: N.G. Sjölander 1996

The medieval building, in the centre of Uppsala, that housed the Celsius Observatory is preserved.
A "Celsius statue" can be seen in the foreground.
All observational material, for example the log-books, from the Celsius Observatory are today found in the Uppsala University Library and many
of the instruments are displayed in the Uppsala University Museum or at the Ångström Laboratory - Department of Astronomy and Space Physics.
---
Back to UAO History Page