Svenska, tack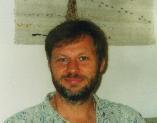 Dr. Bengt Edvardsson
Assistant Professor
---
Research Interests
Late-type stars: spectra, chemical abundances, stellar atmospheres
Galactic chemical evolution
References, ADS publications

Brief descriptions of current projects can be found here.

Selected references (the ftp links point at postscript files):
Edvardsson B. 1988: Spectroscopic gravities and chemical composition of 8 nearby single sub-giants, A&A 190, 148-166
Gilmore G., Edvardsson B., Nissen P.E. 1991: First detection of Beryllium in a Very Metal-poor star: a Test of the Standard Big Bang Model, ApJ 378, 17-21
Edvardsson B., Andersen J., Gustafsson B., Lambert D.L., Nissen P.E., Tomkin J. 1993: The chemical evolution of the galactic disk I. Analysis and results, A&A 275, 101-151
Edvardsson B., Gustafsson B., Johansson S.G., Kiselman D., Lambert D.L., Nissen P.E., Gilmore G. 1994: Boron in the extreme Pop II star HD140283 and the production of light elements in the Early Galaxy, A&A 290, 176-182
Garcia Lopez, R.J., Lambert D.L., Edvardsson B., Gustafsson B., Kiselman D., Rebolo R. 1997, Boron in Very Metal-Poor Stars, ApJ 500, 241-256
Edvardsson B. 1998: Stellar Abundance Profiles in Disk Galaxies, in Proc. Workshop "Abundance Profiles: Diagnostic Tools for Galaxy History", ASP Conf. Ser. Vol. 147, Eds. D. Friedli, M.G. Edmunds, C. Robert, L. Drissen, (San Francisco: ASP), 45-53
Gustafsson B., Karlsson T., Olsson E., Edvardsson B., Ryde N. 1999: The origin of carbon, investigated by spectral analysis of solar-type stars in the Galactic Disk, A&A 342, 426-439
Tautvaisiene G., Edvardsson B., Tuominen I., Ilyin I. 2000: Chemical composition of evolved stars in the open cluster M67 , Astronomy & Astrophysics, accepted (astro-ph/0006001)
More about my colleagues and The Stellar Atmospheres Group
---
Astronomy Picture of the Day
The Vienna Atomic Line Data base, VALD
Camel bus!
---
Department of Physics and Astronomy
Uppsala University
(The Ångström Laboratory)
Box 516
S-751 20 Uppsala
Sweden
EMail : Bengt.Edvardsson@astro.uu.se
Phone : (+46) 18 471 5983)
FAX : (+46) 18 471 5999)
---
The Uppsala Astronomical Observatory home page
---
Latest update: January 11, 2008