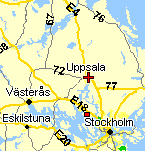 Kvistaberg: General information

The Kvistaberg Observatory is the observing station of the Uppsala Observatory. It is situated about 50 km south of Uppsala, on the northern shore of an arm of Lake Mälaren, close to the municipality Bro, about 45 km northwest of central Stockholm.

The observatory was founded as a result of a large donation by the artist and amateur astronomer Nils Tamm. In 1944 he donated his estate Kvistaberg, and additional financial resources, to the Uppsala Observatory under the condition that a modern, large telescope should be constructed and placed at Kvistaberg.
---
Directors: